Calvary in Detva
CALVARY
The building of Calvary began in the spring 1910. It was built on the spot where formerly three crosses stood and this place was called Calvary by Detva residents. In the same year, the construction of Calvary was completed and on 17th September 1910 it was consecrated by priest, member of St. Francis´ Order, a former chaplain in Detva, M. Príkaský.
Calvary consists of 14 Stations of the Cross and a small chapel. The stops are small walled rectangular buildings with a rectangular ground plan, a graduated plinth, covered by gable roof. Glassed niches, with pointed arch in the end are at polychrome stucco reliefs of the Cross scenes. Five of the fourteen stops is along the path that leads through the cemetery.
The other stops continue in serpentine path through forested hill up to the top where there is a chapel. The chapel has a simple rectangular plan with polygonal closure, which is located in the middle of stucco statue of the Pieta. The front facade ends with triangular shield with a wooden belfry. The interior is roofed by a barrel vault. Stained glass windows with figures of Anthony of Padua, St. Joseph, St. Stephen King's and St. Anna teaching Madonna are artistically interesting.
Next to the chapel there is the carved Detva cross made in 1974 by local woodcarver Ján Fekiač. The polychrome stucco sculpture of the Crucifixion stands in the middle of the hill. It is located on a high pedestal and covered with a tent on the roof of corner pillars. The bell of the Calvary Chapel was donated in 1935 by the Vagač widow.
In 1965, Calvary was restored. All the stops of the cross and the chapel were reconstructed and plastered. In 2007 a small roof and a platform was built to the chapel to make it possible for serving outside Mass. On the occasion of the 100th anniversary of the construction of Calvary its complete reconstruction was made.
Individual Chapels of the Cross were plastered and repainted. Chapel of 5th cessation was moved to the right side of the walkway leading through the cemetery because of the static reasons. Reliefs of scenes of the Cross have been completely restored. Reconstructed Calvary was blessed by Mons. Rudolf Baláž, diocesan bishop from Banská Bystrica on 12th September 2010.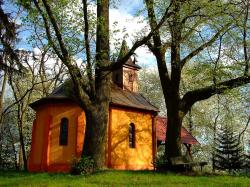 The Chapel
   Photo: K. Melichová

Detva, 28th May 2012
Made up by: Katarína Melichová
Translated by: Mgr. Bohuslav Ilavský
Source: BARTKOVÁ, A.: Dejiny farnosti Detva. Banská Bystrica: Univerzita Mateja Bela. Fakulta humanitných vied. Katedra histórie, 2008.
Published 27.8.2013
Updated 3.9.2013