Carved Wooden Crosses
DETVA CARVED WOODEN CROSSES
During visit of Detva and Podpoľanie Region visitors´ attention is certainly focused on carved wooden crosses standing by the roads, near churches and other pious places in the region.
Smaller forms of these crosses are grave crosses indicate the final resting place of the deceased. They can be found at Detva cemetery, but also in Calvary exhibition, near Detva cemetery. Roadside crosses and grave crosses are artifacts of folk art of the region and are also part of the national cultural heritage of Slovakia (registered in the central register of cultural monuments in Slovakia). These symbols of Christian religion are a manifestation of the skills and mastery of local woodcarvers. They are produced of wood - the most widely used material in the folk architecture and traditional folk culture of the region in the past. They are decorated with carved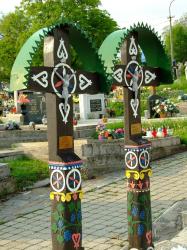 ornaments and coloring. There are simpler forms of crosses - one color and simply decorated and also crosses decorated with deep notch cuts and richer and colorful ornaments at cemetery in Detva. Geometric and vegetal ornaments and Christian symbols adorn the front but also the sides of the crosses. There are many different ornaments such as wakerobins, flowers, leaves, vines with bunches of grapes, hearts, candlesticks, rosette rings, volutes, slugs, rings, wavy, Sacraments. On the grave crosses there are also inscription with the name of the deceased and the year of his/her birth and death. The base color of the crosses is dark brown, ornaments are white, yellow, green, red or blue. The cross is normally closed and protected by a metal roof, which takes the form of lace edge pattern. In the past, wooden crosses sheds were made of wood or they were without them.
  Carved wooden crosses – Grave crosses
                   Photo: K. Melichová
Establishing of exposition at Calvary, crosses renewal and mastery of their production revival.
There was very important issue how to protect, preserve and made available the collection to the general public because of inadequate care of the collection in the past, it was in a bad condition and needed reconstruction. In addition, many people removed wooden crosses and replaced them with their stone monuments.
Detva Municipality, in partnership with other organizations and local crosses producers has undertaken:
•  to ensure reconstruction of crosses that have lost their original function andestablish the 
   exposition at Calvary near Detva Cemetery,
• gradually reconstruct the exposition of crosses,
•  to revive mastery of production Detva carved crosses in collaborationwith Folklore Festival
   beneath Poľana and Detva Colony of Artists.
Establishing of the wooden crosses exposition at Calvary and their reconstruction was arranged by Detva Municipality in collaboration with the District Office in Detva, the Roman Catholic Church in Detva, Local Office of Matica Slovenská in Detva, Heritage Institute in Banská Bystrica, Detva Colony of Artists, and a team of Community Service under the leadership of Mr. Milan Malček and Detva Cemetery administrator Mr. Jozef Kulišiak.
Implementation of the reconstruction was financially supported by: District Office in Detva, Ministry of Culture of Slovak Republic and Matica Slovenská. The Support Projects were created in cooperation with the Department of Development Department of Education, Culture and Social Affairs of the Detva Municipality. The local makers of wooden carved crossess were also involved to the reconstruction. Thanks to reconstruction and maintaining the exposition many artworks of deceased masters were preserved. Roadside crosses – works of the current masters of art can be looked up not only in different places in Detva and Podpoľanie region villages, but also in several places in Slovakia and even abroad. Detva carved wooden crosses made by Detva masters´ hands are also placed in the Symbolic Cemetery of the mountains victims in the High Tatras. It was originally created at the initiative of the Czech painter Otakar Štáfl who was inspired by Detva.
Makers of carved wooden crosses
The crosses preserved until now at Detva Cemetery, as well as roadside crosses, are the works of deceased masters: Jozef Fekiač - Šumný, Ján Fekiač, Štefan Melich - Klimo, Štefan Stehlik, Mikuláš Sekereš, Jozef Krnáč – Stolár, Jozef Krnáč – Boriak, but also other unknown makers.
The current generation of local producers is represented mainly by: Jozef Krnáč jr., Mikuláš Purdek, Ján Môťovský, Štefan Melich, Štefan Ľupták and others.
In Memory of deceased Detva carving masters the works were donored to exposition at Calvary by Jozef Krnáč from Detva - Krné and Mikuláš Purdek from Detva.
Mr. Milan Malček – member of Detva Colony of Artists deals with reconstruction of crosses and making of  miniature crosses and crucifixes, which are imitations of traditional roadside crosses.
Made up by: PhDr. Anna Ostrihoňová, the author of the motive of setting up the exposition and reconstruction plans for Detva Carved Wooden Crosses
Translated by: Mgr. Bohuslav Ilavský
Informations:   Tourist office in Detva
Address:           M. R. Štefánika 3214/2E, 962 12 Detva
                           (Next to LIDL supermarket, 1st floor)
Tel. No:            +421 045 5459087
Fax:                   +421 045 5459091
e-mail:              tikdetva@tikdetva.sk
http:                  www.tikdetva.sk
Published 27.8.2013
Updated 20.9.2013