Natural Attractions of the Town
NATURAL ATTRACTIONS OF THE TOWN AND DETVA SURROUNDING
Detva is one of the gateways to the biosphere reservation - Poľana, wildlife sanctuaries, to natural monuments and protected areas in Podpoľanie Region. You can get there through local roads by car, bus, or bike. Then it is necessary to walk.
Protected Landscape Area Poľana
Natural dominant feature of Podpoľanie Region is a Poľana stratovolcano (1458 m). It is one of the largest extinct volcanos in Europe. In 1981 it became a protected area in 1990 it was listed as a UNESCO Biosphere Reserve. Today this protected area is 20,360 ha.
Stratovolcano was created 13 to 15 million years ago and the result of long-term volcanic activity and subsequent erosion is the crater - the caldera with a diameter of six kilometers. Hučava River flows through it.
Poľana, it is particularly thick and tall trees, interesting cliffs, beautiful valleys, rare plants, animals, beasts. The specialty is complex of forests with primeval character and diversity of forest communities.
Almost 85% of the Poľana area is forested, with predominance of coniferous forests. The unique platform is grove of spruces because it is the southernmost occurrence of native spruce forests in the Western Carpathians.
You can also find here about 1,220 species of plants, many of which are protected. Very diverse fauna is typical for Poľana also thanks to variety of different types of environments. Because of a large number of endangered and rare species of birds Poľana was listed as Important Bird Area of Europe. Deer is a natural king of Poľana. You can also meet a bear, lynx and wolf here.
Part of the protected landscape Poľana area - Biosphere Reserve is also Protected hunting area for breeding and research deer. It is also a protective zone for small protected areas with the aim to protect rare habitats and communities more.
For more information, visit the web site reports Protected Landscape Area - Biosphere Reserve Poľana www.chkoPolana.eu/sprava-chko/
Hrb Dimension (1,255 m asl. M.)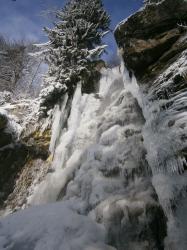 Poľana has central location in the territory of Slovakia. Hrb Dimension is the geographical center of Slovakia.
Back Poľana - National Nature Reserve
The largest reservation, occupying the apical part of Poľana (695 ha) with surrounding slopes. There are 160 to 190 years old spruce stands. It is the occurrence of spruce on the southernmost edge of the area of the initial expansion in the Western Carpathians.
Bystré Waterfall - National Natural Monument
Its 23 m high overflow wall was created by lowering tectonic movements of southern solidified andesite flow. It is one of the largest waterfalls in the Western Carpathians.


Bystré Waterfall
Photo: V. Golianová
Rohy - National Nature Reserve
Parasitic crater Poľana disturbed by erosion in ancient times. Vegetation consists of mixed forest with oaks, hornbeams and pines blended with other plants. On the southern slopes on shallow rocky soils there are communities of forest steppe and steppe character.
Kopa – Natural Reservation
It is located north of Melich rock. It provides the possibility to study weathering of rock formations and its subsequent vegetation settlement.
Melich rock - Natural Monument
Pedestal rock formation located at the southern foot of Poľana above the Skliarovo Village in Detva. The rest of the lava front flow shape retention of flowing lava dominates, which greatly extends from the surrounding gentle slopes.
Kalamárka - Natural Monument
It is the andesite rock plateau surrounded by rock walls, chimneys and towers of a height exceeding 10 m. It is located about 5 km north of the Detva center. It is an archaeological site, a popular tourist destination and sports place for mountaineers.
Horná Chrapková - Protected Area
The area with waterlogged or wetland meadows with rich flora, with the appearance of some endangered species.
Natural park underneath Ježová
Favorite place for nice walks and views of Detva and southern slope of Poľana.
This place took a look of symbolic landscape with a labyrinth after landscaping and remediation and cleanup of the quarry It is also an example of how to revitalize and give new shape after quarry mining.
Terraced fields
They are characteristic only for Podpoľanie Region and they are cultivated until nowadays. They create a unique scenery changing its colors with every season.
Hamlet settlements
Another hallmark ov Podpoľanie Region is maintained hamlet settlements (lazy). This type of settlement is unique even within Slovakia. Hamlet settlements have good road access to the town center by cars and buses by local roads. They are largely equipped by electricity, gas and drinking water. Developed infrastructure, availability of other amenities, clean air, lovely scenery, rich flora and fauna and silence, it is a great opportunity for the development of agrotourism.
Informations: Tourist Information Centre in Detva (TIK)
Address:          M. R. Štefánika 3214/2E, 962 12 Detva
                          (Next to LIDL supermarket, 1st floor)
Tel. No:            +421 045 5459087
Fax:                   +421 045 5459091
e-mail:              tikdetva@tikdetva.sk
http:                   www.tikdetva.sk

NATURAL SPRINGS
DETVA
Spring Vera (Town Part Krné – Rechtorová) and Spring Jánošík (next to swimming pool)
Access to Spring Jánošík: Road I/50 (E ), III/06628 and Sládkovičova Street
Access to Spring Vera: Town Part Krné, next to the Chapel by the local road towards Rechtorová
Transport: by car, by bus, by bicycle, on the foot

Informations:  Tourist Information Centre in Detva (TIK)
Address:          M. R. Štefánika 3214/2E, 962 12 Detva
                          (Next to LIDL supermarket, 1st floor)
Tel. No:            +421 045 5459087
Fax:                  +421 045 5459091
e-mail:             tikdetva@tikdetva.sk
http:                  www.tikdetva.sk

VÍGĽAŠSKÁ HUTA – KALINKA
Spring Lohyňa
Access:  road I/50 (E 571), in Vígľaš village along the road 591
Transport: by car, by bus, by bicycle
Informations: Vígľašská Huta – Kalinka Municipality
Address:          Vígľašská Huta – Kalinka 73
Tel. No.:           +421 045 54 02 557, 54 02 558
http:                  www.vhkalinka.sk/obec.php?p=informacie
KLOKOČ
Springs Polom and Matúš
Access:   along the road I/50 (E 571), near Vígľaš village on the road 591
Transport:   by car, by bus, by bicycle
Informácie:  Klokoč Municipality
Address:       Klokoč
Tel. No.:        +421 045 54 02 880, 54 02 881, 54 02 882
http:               www.klokoc.sk

Detva, 26th April 2011
Updated: 30th March 2013
Made up by: Anna Golianová, Detva Town Hall  – Development Department
Translated by: Mgr. Bohuslav Ilavský
Source: archive of municipality Detva – Development Department
Published 28.8.2013
Updated 20.9.2013