Podpoľanie Museum in Detva
PODPOĽANIE MUSEUM IN DETVA
Welcome in Podpoľanie Museum, which was established by Detva Municipality in 1994. It has a seat at Partizánska Street No. 63 in the historic town center.
From 1st January 2008 Podpoľanie Museum incorporated into the newly formed organization Cultural Centre of A. Sládkovič in Detva.
The Museum collects, documents, researches, protects and makes accessible the materials and spiritual artifacts of Podpoľanie Region.
We would like to invite the visitors to:
* Guided tours to exhibitions in Podpoľanie Museum:
Detva in different sources - long-term exhibition presenting three-dimensional and photo-documentary material about prehistoric fort Kalamárka and about history of Detva from 1638 to 1938.
John Lassovszký´s camera (pictures from Detva in the first half of the 20th century) - the exhibition presents a rich historical and ethnographic material of traditional Detva life. The  author was a great Detva native.
In 2009 the first permanent exhibit at Podpoľanie Museum was opened. I i calle My sheep, dear sheep ... shepherds´ culture in Podpoľanie Region presenting the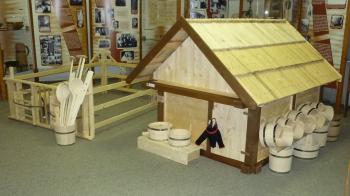 shepherds´ tradition, sheep cheese and dairy production in Podpoľanie Region.
The small exposition of a promotional nature of treasury Veronica Golianova is set up outside of the Museum building at No.75  Partizánska Street.
Continuously during a year Museum organizes also temporary exhibitions from its own resources or borrowed ones from other museums.
 


Exhibition in Podpoľanie Museum
Photo: R. Babicová
* Professional guided tour of the sights in the historic town center and to the interesting surroundings according to visitors´ requests (remnants of traditional architecture in the old town, Exposition of carved wooden crosses on Calvary Cemetery, Baroque sculptures, Church of St. Francis of Assisi, Traditional carved wooden gate at Dianiška house, The Vagačs house - the former residence of the first Manufacture of sheep cheese in Slovakia, Kalamárka fort, terraced fields on the hamlet settlements).
* Borrowings of literature from the library of the museum
* Methodological assistance to students and public
* Lectures combined with presentations on the theme of the history, ethnology, archeology, protection of cultural heritage and so on with the participation of invited lecturers for educational institutions and the public.
* Presentations on selected topics - folklore, history of making sheep cheese in Podpoľanie Region, Detva history, Podpoľanie celebrities, Museums in Slovakia etc.
* Metodical lessons and PowerPoint presentations according to primary and secondary schools requests appropriately connected with the exhibitions and lectures.
* Art workshops connected with the focus of the museum appropriate to the public as well as a wide age range from preschoolers to seniors.
* Available technical publications for sale:
J. Žilák: Glassworks in Podpoľanie Region (Sklárne na Podpoľaní)
Anthology - Detva Traditions, Transformations and Present Time (Detva Tradície, premeny a súčasnosť)
P. Šalkovský: Detva, Prehistoric and Earlyhistoric fort from the ancient history of Slovakia (Detva, Praveké a včasnohistorické hradisko k dávnym dejinám Slovenska)
T. Figurová, E. Mőhlbergerová: With Ján Lassovszký´s Camera (Fotoaparátom Jána Lassovszkého)

PRICES FOR SERVICES
Entrance fee (exposure and exhibitions together)
Adults - € 0.50
Children, students - € 0.20
Children under 6 years - free of charge
Expert commentary and accompanying the sights of € 0.50
Workshops: € 1,00 (Museum provides material)

OPENING HOURS
Monday - Friday: 8:00 - 16:00 o´clock all year round
Larger visits can be taken after agreement in advance to the listed telephone numbers besides opening hours (including weekends).

CONTACTS, INFORMATIONS
PaedDr. Renáta Babicová – Head of Museum
Bc. Elena Mőhlbergerová – Professional museum worker

Culture Center of Andrej Sládkovič in Detva
Address: Podpoľanie Museum (Podpolianske múzeum)
                 Partizánska Street 63, 962 12 Detva

Tel:                   004214554 55 212
Mobil Phone:  00421918 167 711
e-mail:             muzeum@kcdetva.sk 
http:                  www.kcdetva.sk/sk/Category/19/Category/23/Podpolianske%20múzeum.proxia
Published 27.8.2013
Updated 20.9.2013