The Church of St. Francis of Assisi
CHURCH OF ST. FRANCIS OF ASSISI
The current classical church of St.Francis of Assisi dates from the early 19th century. It was built on the site of the first Detva renaissance church from 17 century. There was only tower  left and it was extended to the height.
The church has a cruciform plan, the altar towards to the east and the tower to the west. The space of the church is vaulted with Prussian vaults and corners are decorated with Ionic pillars and Corinthian elements. The main classical altar is from 1823, St. Francis of Assisi is in the middle of it. The extension altar with a picture of the Trinity is situated above it.
Originally the sanctuary was divided from the altar ship by smal fences which were cancelled after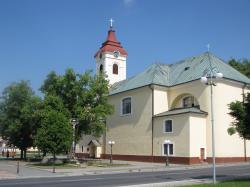 2nd Vatican Council (1965). The left side altar of the Divine Heart is also a classical one from early 19th century (probably also from r. 1823) with the image of an unspecified saint. To the right there is a side altar of the Immaculate Heart of Virgin Mary with the painting of St. Ján Nepomucký. It is also dated to this period. Paintings of Stations of the Cross are from the late 19th century. The tabernacles on three altar tables are also from this period. Classicist pulpit is from the early 19th century. On a side sill in three relief ovals there are biblical scenes shown.
Church of St. Francis of Assisi in Detva
Photo: E. Huboňová
The church is decorated also with three ceiling oil paintings: Assumption of the Blessed Virgin Mary, Jesus in the Garden of Gethsemane and the Last Supper. For colored stained glass windows in the sanctuary there are displayed The Last Supper and Good Shepherd, in the nave St. Apostles and St. Peter and St. Paul, and at the back of the church St. Dominic Savio and St. Maria Goretti.
The current organ is from 1968, although some good pipes and the organ cabinet were used from the old organ built in r. 1917.
Detva, 17th May 2012
Made up by: Katarína Melichová
Translated by: Mgr. Bohuslav Ilavský
Source: BARTKOVÁ, A.: Dejiny farnosti Detva. Banská Bystrica: Univerzita Mateja Bela. Fakulta
humanitných vied. Katedra histórie, 2008.
Published 27.8.2013